founder
Julie Debove
"I've always loved lingerie, but I've always had a problem with it. With the sizes, with the image it conveys, with the bodies represented, with the style of the pieces, with the way they're made. Everything. I just couldn't get my head around it. "
The desire to uninhibit lingerie
One day, I felt like treating myself to something pretty in a lingerie shop. I had the worst time of the decade. All the pieces were far too sexy, too small, too expensive, and the sales assistant was far too judgmental. (Needless to say, the clothes were made in China). A lot of disappointments. So I decided to make my own clothes. I took my first sewing course and then followed a few tutorials.
In this approach, I also wanted to reuse already existing materials. The placemats came naturally. They are subtle and delicate. There have always been some at my parents' house.
I specifically remember the one with little embroidered strawberries under the potpourri bowl on the coffee table in the living room.
A few days later, here I am cutting from an old placemat to make my first panties.
It was at that moment that I said two things to myself:
The first: "I have a great idea, I'm going to develop it and not just for me!".
And the second: "On the other hand, I am a very bad seamstress, I will really have to work with people whose job it is."
A few meetings and a few new prototypes later, everything is confirmed
and this is how Napperon was born.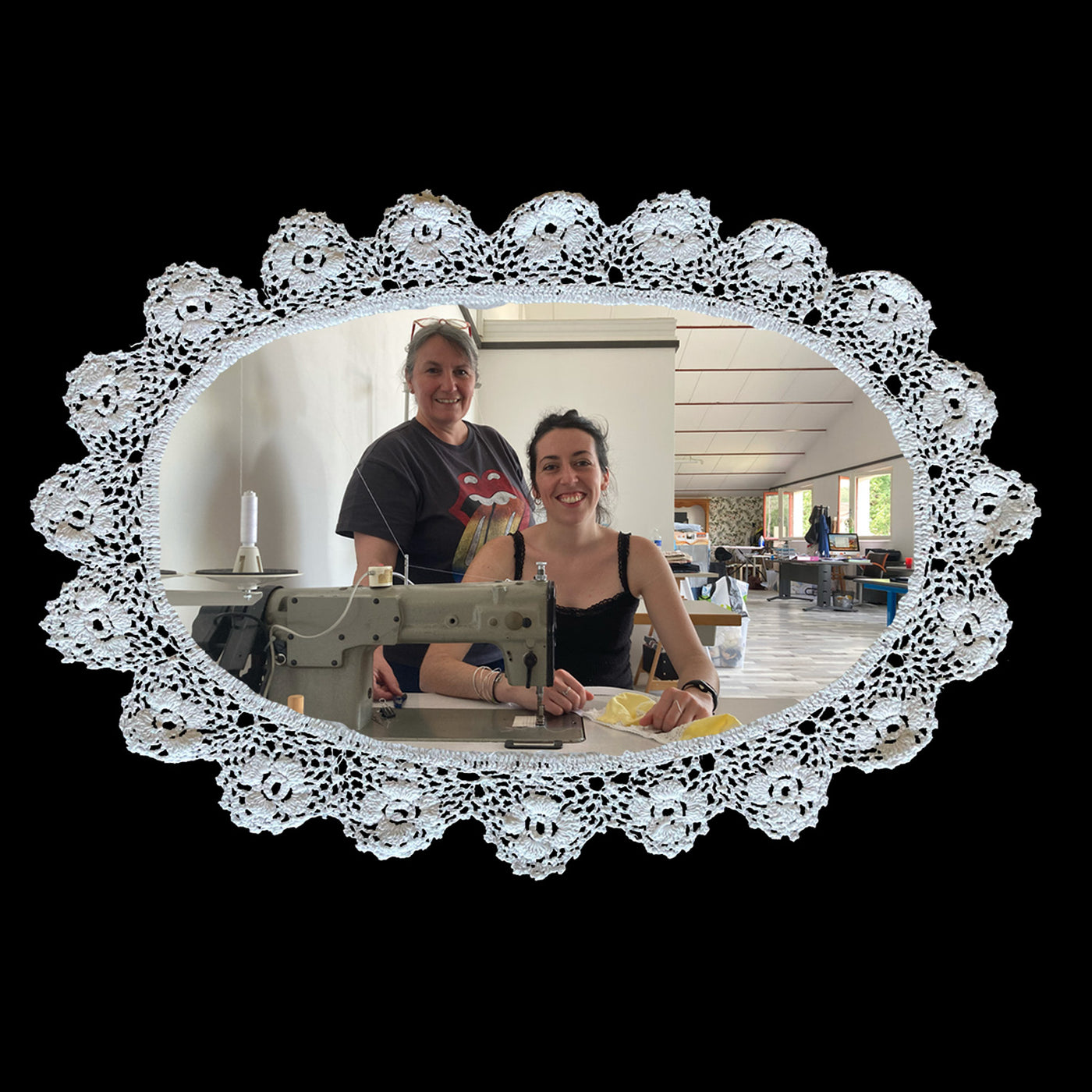 Seamstress & Patternmaker
Angélique Dema
For the Dema, sewing is a family affair. Passionate mother and daughter, Nathalie and Angélique launched their leather goods brand and opened their tailoring workshop in the Basque Country.
Angélique has training in lingerie and corsetry and she is the one who takes care of your Placemat pieces.
Discover their world here!
If you are interested in becoming a placemat manufacturing service provider, contact me!
The best entourage
Those without whom Napperon would not be here
I am alone on the project on a daily basis but these people have supported me at one point or another.
Special thanks to Rachel, the best AD ever. I put his site here .
Thanks to Malo, Fred, Lila, Céline, Iaonara, Maïté, Patricia, Marie-José, The Paques family, as well as my lovely family for the support.
And a final thank you to Thibaut for the huge boost on the website!
❤️